Our Staff
Monica Gonzales, Owner
Monica's first beading class project, a pair of earrings, turned her head and she's never looked back! Her passion is beading, primarily making complicated, bead-woven "chest ornaments." Her flair for the dramatic, strong color sense, and expert needle skills turn her projects into pieces of art. She's also passionate about sewing and pieces many of the samples you see at the shop. She loves being a shop owner--and it shows in everything she does.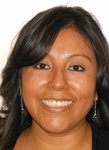 Evelia Rojas, Manager
Evelia has worked for Monica since she was in high school! There's NOTHING she doesn't do in the store! If any of us need to know
anything
, the answer is simple: Ask Evelia. Outside of work, she enjoys quilting when she's not volunteering at her daughters' schools.
Susie Contratto
Susie first started teaching for Monica in 1992. She loves bright colors, wild fabrics and anything that looks like it might be fun to try. In fact she's often the first one to volunteer to try a new technique or tool. Her quick wit and years of experience make her classes for beginning piecing students and evening Sit and Sew sessions some of our most popular offerings. You'll also find her on the quilt side in the shop at least one day a week.
Emily Chiarello
Years of art education and time in her studio have made Emily a rich source of help and inspiration for Monica's customers. Emily is both a quilter and a beader and works on the bead side at the shop.
Hester Mastro
An award winning quilter and seamstress, Hester also brings her long-arm quilting experience to her classes. No matter the ease or difficulty of the pattern, Hester knows how to use it to its best advantage by combining color and texture beautifully. You can also find her on the shop floor during our "Season." Visit her website,
Quilt Junkie
.
Joanne Hunt
Wonder how women sewed with such tiny stitches before machines were available? Joanne knows and is happy to share her expertise. She's equally adept at both creating her own designs and executing the designs of others. A long-time, award winning quilter, Joanne updates her skills annually with classes taught by nationally known artists. Joanne works on the floor and has a Sit-n-Applique group.
Mary Gorfine
In 1972 Mary discovered quilt making and has spent many years making art quilts and teaching quilt making. She also likes to play with paper, metal, paint, ink, found objects, recycled materials—okay—she plays with just about any material! She has taught for Monica since 1991. She also puts together our newsletter, maintains the website and works on the quilt side a couple of days a week. You can see Mary's award-winning work at art festivals around town on her website,
Mary Gorfine, fiber & mixed media artist.
Patricia Paz-Altschul
Though Patricia is an accomplished beader, her real talent is turning plain wire and stones into remarkable pieces of jewelry. From delicate Y necklaces of cascading pearls and crystals to chunky stone and wire bangles, Patricia does it all beautifully. Patricia donates a percentage of proceeds to support educational opportunities for youth in the United States. Patricia teaches wirework class and you can see her work on her website:
appajewelry.com
Rose Mary Jameson
Rose Mary's experience in designing award-winning skating & theater costumes, wedding gowns & original day wear gives her designs sparkle & impact. She was a finalist in the 2007 Swarovski International Design Contest and published several patterns in the "Bead-a-Day Calendars." Rose Mary's original designs range from fresh & young to elegant & mature. She aslo has a line of quilting, clothing & accessory patterns. She teaches beading classes and works on the bead side at the shop. Visit her website,
Sew Fast Design
Starr May
Starr is a renowned glass artist and jewelry designer who loves sharing her ideas with others. When Starr is in the store, we all rush to see what jewelry she's wearing—the way she combines materials causes gasps of "how did you do that?" If you need a piece of jewelry repaired, come in and talk to Starr to see if she can help.